NEWS ALERT! Google rolls out "Mobile First" indexing
In recent years, Google has been pushing more and more to ensure all websites are mobile friendly. This makes sense as mobile searches have consistently been on the rise since 2009 and finally surpassed desktop searches in 2018. (According to a report by Statista)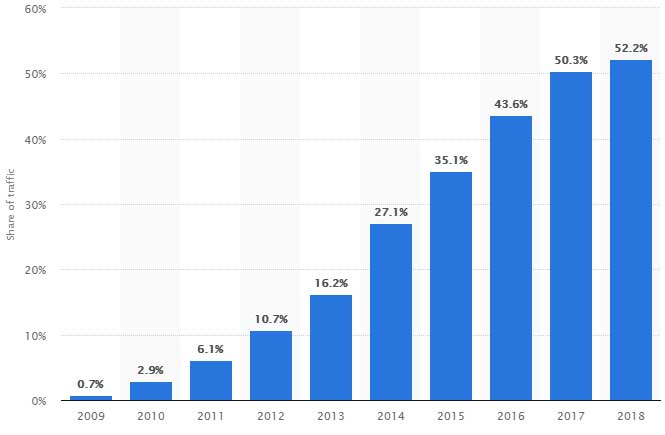 Google Announces Mobile First Indexing
On March 26th, 2018, Google officially announced that they would be using mobile first indexing. This means that they are going to be indexing websites based on their mobile version– not their desktop version (as was done in the past). This update has come at a time when mobile searches are becoming the majority and desktop searches are becoming the minority.
Google has always aimed to help the largest number of searchers possible. So with a powerful mobile search trend, they are forced to adapt to the most popular means of search.
Will a Non-Mobile Friendly Site Hurt My Rankings?
Since April 2015, in what search-engine-optimizers have dubbed "Mobilegeddon", Google officially started rewarding the search rank of mobile-friendly sites and penalizing sites that were not mobile-friendly.
A study by Blue Corona (a digital marketing company) found that sites that did not switch to mobile-friendly platforms before the update in 2015 were hit with a hefty 50%+ traffic reduction penalty. This penalty came because Google dropped their SEO rankings, which resulted in fewer people seeing and clicking on their site.
The same study found that in 2015 70% of websites on the first page of Google were optimized for mobile. Of the 70% that had a mobile friendly web design, the conversion rate tended to skyrocket after the switch.
One case study of an HVAC company in Allentown, Pennsylvania showed that in the year after switching to a responsive mobile friendly site, their conversion rate went up by 1750%. While definitely an impressive increase in sales, this statistic is believable especially for sites that attract a heavy mobile user base.
What Does "Mobile Friendly" Even Mean?
The cost and benefit of mobile-friendly sites are apparent, but what does it really mean to be "Mobile Friendly"? According to Google, it means that your site:
• Does not use software not commonly found on phones (aka Flash)
• Uses text that can be read without having to zoom in.
• Auto adjusts website content so users don't have to rotate their screen or zoom.
• Places links an adequate distance apart so it is easy to click on the correct one.
How Do I know If I'm Mobile Friendly?
If you have a website and want to check or verify if it is mobile friendly, you can use Google's "Mobile Friendly Test". If you need to make adjustments to your website, you can always install a responsive theme on WordPress or another content management system.

Based on the blogs Google is putting out, we can confidently assume companies who don't optimize for mobile will see their rankings disappear. At the same time, companies who adopt and take advantage of mobile-friendly sites early-on have and will continue to see higher rankings.
What Can I Do?
Rocky Mountain Media Services specializes in affordable mobile friendly web designs for small businesses. All our designs are built on a WordPress platform which we feel is the absolute best for future SEO  purposes. We also offer several affordable website hosting options to fit your budget and needs. These are all part of our Smart Marketing platform which will cover all aspects of affordable digital marketing for small businesses. 
Sources: https://blog.markgrowth.com/site-not-mobile-friendly-you-can-kiss-your-google-rankings-goodbye-7f466f6f2b1