DIGITAL SOLUTIONS
Are you still stuck in the conventional advertising "quagmire"? Consider our
4 phase "Smart Marketing" approach using our Albuquerque Website Design and Digital Marketing Services!
WE ARE
NOT

YOUR NORMAL


"ADVERTISING AGENCY"

!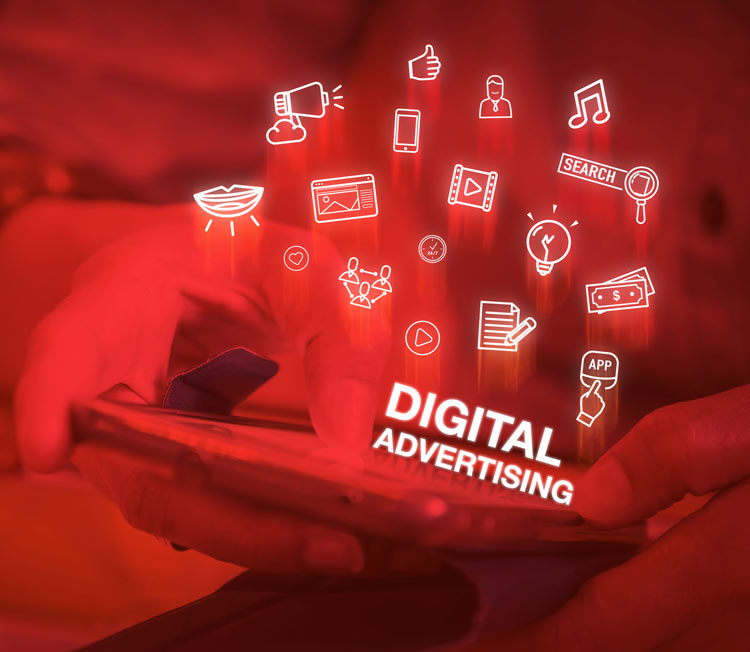 We specialize in digital marketing for Albuquerque small businesses. We surround ourselves with the very best specialists in New Mexico for web design, search engine optimization (SEO), search engine marketing (SEM), Pay-per-click (PPC) and Email marketing campaigns.
We are very selective when it comes to making the decision to partner with a new client because our relationships with our clients are usually long term. If we don't feel we are a good fit for you, we'll tell you. Once we "pull the trigger" to represent your business, we take the time to really get to know your business goals as well as the frustrations & obstacles that keep you from achieving those goals. Take a look at our portfolio of of website designs.
We are not a "hit & miss" Albuquerque digital marketing agency. A successful advertising/marketing campaign is much more than "ad placement". It must have both long & short term plans that consist of vertical and horizontal advertising. We will set in place a plan that will work within the boundaries of your budget guidelines. Our Albuquerque SEO, PPC, and SEM marketing agency is committed to working closely with you. We believe that a current, dynamic mobile website should be the very core or backbone of your business. This should be the first step of any marketing program. It should be a natural extension of your business. All marketing should originate and "flow from" this site with a singular goal of driving customers or clients "back to" your website to capture leads & contact information or make a sale. Once your website is in place we believe it has to be reinforced by robust SEO & SEM campaigns. These are part of the long term thought process we spoke of earlier. Sometimes a PPC campaign is prudent for immediate results. We refer to this internet marketing strategy as our "Smart Marketing" plan. We firmly believe these building blocks should be in place BEFORE attempting any other advertising. This is the foundation for successful Albuquerque digital marketing!
THIS IS WHAT
OUR CLIENTS

SAY
Gotta say, when they sent out those postcards through RSVP advertising our upholstery business, we ended up earning enough business that we would not have otherwise had to pay for those cards over and over again. They helped us make our furniture upholstery business known to the high income public and we got some great jobs out of it. Bear Nut Upholstery says "THANK YOU" You deserve 5 stars.

Terry has been super helpful and taken the extra steps to help me with my business. She has helped me understand how to work better with my customers and helped me think outside the box more to help make my business more successful. Terry is genuinely interested in her customers and doing what it takes to help make them successful.

Rocky Mountain Media was key in helping me find new customers after I moved my salon 2 years ago. They are so professional and the quality of the ads are beautiful and the response was fantastic! I will always turn to them if we need to advertise but we have so many new customers that we are just trying to keep up!

I have worked with Rocky Mountain Media services for almost 7 years- They are always helpful and professional. They currently help my business with my online marketing. Within the first month i picked up a client that more than covered my annual fees with them. I would highly recommend them. They are always coming up with news ideas on how to promote my business.

A real advantage of working with Rocky Mountain Media Services is that the owners and staff have had years of experience owning and operating a variety of businesses and really understand the issues their clients face.

Dave and Terry are great to work with. They understand my business and go the extra mile to make sure my advertising dollars are spent wisely.

Dave and Terry are great to work with. They understand my business and go the extra mile to make sure my advertising dollars are spent wisely.

I have worked with/for Terry Riddle for the past 25 years. Her quality of product, business integrity along with advertising and marketing knowledge make her one of the best in the business. RMMS will get you the results you are looking for.

Very positive and great to work with. Wonderful creative ideas to get your business off and running.