Direct Marketing &
Lead Generation
RSVP Luxury Card Pack with Digital Integration
If you're seeking to reach highly affluent households in our area, you'll find our proven strategy one of your most effective – and economical – media choices. With our proprietary, time-tested process, you reach the highest-value, owner-occupied homes in our market.
The cost? Just pennies per household!
---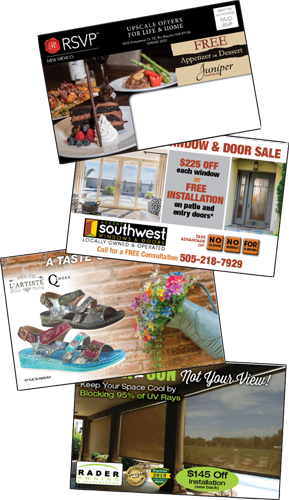 THE RSVP DIFFERENCE
Starting with a direct mail piece, personalized by the homeowner's name and mailed at prime times throughout the year, the packs contain promotional luxury cards from local, regional and national marketers.
Next, we expand the circulation digitally with an integrated digital display campaign to add reach and frequency, leading to MORE sales!
RSVP reaches:
People earning 60% of the household income and holding 70% of consumer wealth
Homeowners with the interest – and income – to maintain, decorate and/or remodel
Consumers primarily ages 35-70 who enjoy fine dining, travel, personal care and entertainment
Prospects who are more inclined to buy, and on average spend 3.2x more than the average household
LUXURY DECK PROGRAM INCLUDES:
- Custom Design Postcards
- Bonus Postcards ($150 value)
- Website Listing (Hot Link)
- RSVP Call Tracking Line & Reporting ($180 value)
- Limited Exclusivity (Priceless)
- Proprietary Mailing List
- Complimentary Artwork & Design
- 3602 Proof of Mailing from USPS
MAILING LIST targets:
Household income in excess of $100k/year
Credit scores 700+
Owner-occupied homes
NEW!!! Includes all home purchases over the past 12 months
DIGITAL INTEGRATION PROGRAM
We will market your Luxury Deck offer digitally by integrating it with ads on the massive Google Display Network, a collection of over 2 million websites, videos & Apps.
RSVP reaches:
News sites such as ABC, NBC, CBS, FOX, CNN, MSNBC & Weather Channel
Business sites such as Forbes, Business Insider & Entrepreneur
Sports sites such as ESPN, CBS Sports & Sports Illustrated
Entertainment site such as PEOPLE & FOOD NETWORK
Digital campaign will coordinate with the delivery of the Luxury Decks.
Dave & Terry Riddle, Owners
RSVP Publications New Mexico
Rocky Mountain Media Services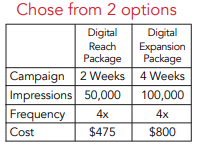 ---